Once reserved for the wealthy and royal, cushions are now an item of everyday luxury that complete spaces ranging from living rooms and bedrooms to outdoor seating areas.
Deceptively named 'throw cushions' and 'scatter cushions,' mixing and matching these decorative pillows actually requires a little bit of know-how to get them looking just right. Here is a couple of our tips to get your started...
Tip 1
COORDINATE…COORDINATE…COORDINATE!
When choosing to purchase cushions for your interior always pre-access your current interior theme. If your current interior theme or aesthetic reflects that of a particular period or style, be sure to look for cushions that blend in with the colours and patterns you currently showcase. If your existing décor is wild and decorative, try styling it with neutral or monochromic cushions with little to no pattern or design. This will help showcase the key elements in the room while still providing a finished and neat look. On the other hand, if you have a very neutral theme throughout your chosen room or house, dare to go bold by selecting two or three bold prints or colours to inject a little bit of depth into your space. You can check out our latest Zaab Collection for inspiration and ideas by clicking here!
Tip 2
Texture is telling
One of the most sacred design tips currently circulating the wider interior curious community is utlising multiple textures within a particular space. This helps with adding depth and dimension into your room. Some may think that achieving this look is hard, but we are here to tell you it is not! Cushions are a great way to change up the texture in your home or desired living space as they are easily interchangeable and don't overpower the existing aesthetic theme. From velvet, to cotton, to linen to fur, combining heavy and light textures through your cushions will keep your home looking on-trend, and feeling homely.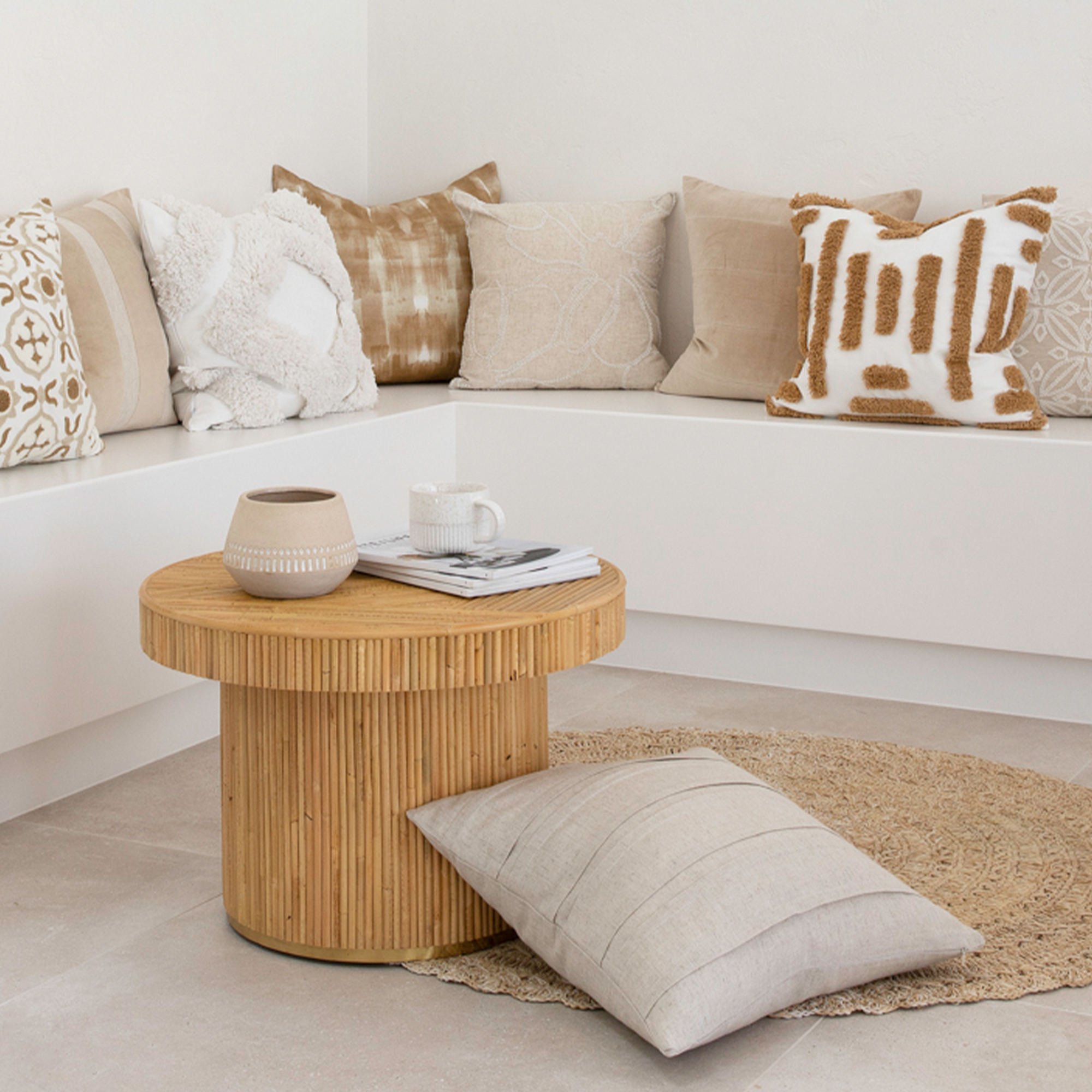 Tip 3
Change it up by changing nothing at all... no, this is not a trick statement!
We mentioned it before, but we will mention it again for those of you in the back, cushions are easily interchangeable naturally due to their size. It is because of this reason why cushions remain one of the easiest and most versatile ways to consistently change up your interior space.
Re-arranging your cushions by putting them in a different order, flipping them over if they have reversible patterns, or simply rotating them clockwise or anti-clockwise can give your cushion a brand-new face and, in a turn a brand-new feel to the room they are displayed in.
Tip 4
Size matters, we don't care what you say!
Having a room filled with cushions of the exact same size and shape can scream boredom and have your house looking more like 'Whoville' rather than an on-trend living space that you are proud to showcase. Combining cushions of different sizes and shapes can create a far more relaxed and welcoming look, so whether that be large, small, square or round, please know that your home will appreciate cushions of all shapes and sizes.
Tip 5
Karate Chop… your pillows please
We when say karate chop, we mean karate chop! Whether you are trying to release some built-up anger, or simply trying to improve the look of your interior space, karate chopping your pillows will do the trick!
Often people think that their pillows need to look perfect in every shape and form, especially when you are frantically running around trying to get your home ready for visitors, but in all honestly, this can make your home feel very cold and "show home like". Using a karate chop in the middle of your cushions will create a crease in them which will mimic the look of someone that has just sat down or puffed them up. This will make your home seem more relaxed, homely - more lived in and loved. It will also help break up the uniform shapes, and in some way, lightly unite cushions of different shapes, colours or designs.
Bonus tip here! The karate chop trick works best on cushions with feather filled inserts, as the feather mould easily to the force of your chop! Check out our luxurious Zaab 100% Duck Feather Filled insets by clicking here!
For more jaw dropping design and cushion inspiration head to @zaabhomewares on Instagram!