August see's the much-anticipated release of six new ranges into our Resene Curtain collection. The fundamental core to the Resene Range is the co-ordination with paint and design. Each design and colour are paired back with 3 paint choices incorporating a base colour to feature wall suggestions. The hard work has been taken out of the equation when it comes to matching your paint to your curtains. The six new ranges offer a wide decorating choice from florals to bold geometrics.
Verdure
Prepare to be enchanted by Verdure, a masterpiece of nature-inspired design that evokes a sense of awe and wonder. This extraordinary foliage jacquard fabric features a captivating shrink yarn effect, bringing dynamic movement and expressive style to your living space.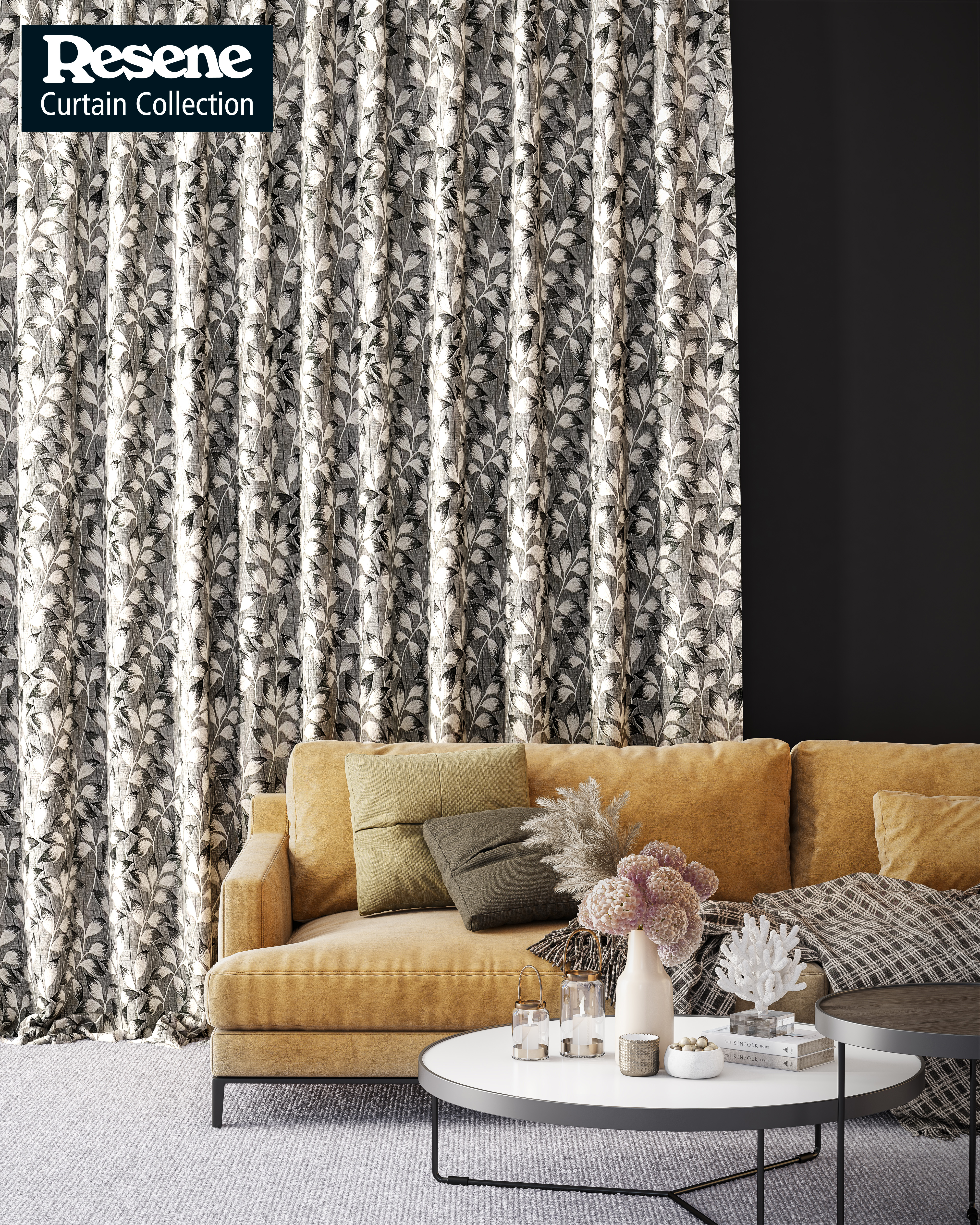 Context
Context is more than just a plain; it is the ultimate expression of harmonious coordination. Meticulously crafted to effortlessly complement Resene's wide range of curtain options, Context presents an unrivaled whole-house decorating solution that radiates effortless style and sophistication.
Meridian
The captivating allure of Meridian comes to life as the subtle geometric jacquard motif. Like a dance of elegant lines and shapes, this fabric exudes a harmonious balance between sophistication and movement. Crafted from a luxurious linen blend, each intricate detail of the pattern has been meticulously woven, ensuring a flawless fusion of artistry and craftsmanship. It transcends the boundaries of ordinary textiles, setting a new standard of opulence and style.
Converge
Prepare to be mesmerized by Converge, a masterpiece of artistry and sophistication. You will discover an intricate dance of lines converging and diverging, forming an intricate web of visual intrigue. This dynamic pattern infuses your living space with a sense of movement and energy, reminiscent of a captivating work of contemporary art. Crafted from a luxurious blend of linen, Converge exudes a sense of opulence and refinement. Not only is Converge a feast for the eyes, but it also offers practicality and durability. The linen blend ensures resilience and longevity, making it a perfect choice for both residential and commercial settings.
Free Flower
Resene invites you to surround yourself with the bold and dynamic nature of Free Flower: a stunning yarn-dyed stylised floral drapery collection. Designed to captivate your senses and elevate any living space, Free Flower embodies the essence of a blossoming garden. The technical yarn and construction have been designed to emulate the lustre, texture and fullness of silk.
Foliage
Embrace the essence of nature with Foliage, a drapery fabric that brings the organic beauty of the outdoors into your living space. This exquisite yarn-dyed linen blend showcases an enchanting pattern of delicate leaf silhouettes, evoking a sense of tranquility and harmony. This delicate interplay of light and texture brings a sense of depth and vibrancy to your living space, transforming it into a sanctuary inspired by the serenity of the outdoors.